Mission Statement
The Douglas Police Department is dedicated to a safe community. By working with the public, businesses, neighborhood watch groups, Volunteer Fire Departments, community groups and schools, we are continually looking for ways to improve our services and community relations.
Our Vision
The department, in partnership with the community, will achieve our mission by:
Creating effective crime prevention and reduction strategies
Structuring the Department to promote professional, creative, well-trained, ethical, and accountable employees
Utilizing the most modern and effective practices and methods available
Creating mutually beneficial partnerships with local community organizations, businesses and schools
Message from the Chief
Each of us at the Douglas Police Department desires a safe and healthy community for all citizens and visitors.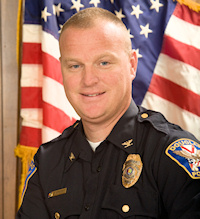 Through various community outreach programs we are working to develop a proactive and cooperative relationship with all members of the community as well as relationships with local businesses, community organizations, schools and area Volunteer Fire Departments.
I am committed to providing an effective, proactive and professional police department to serve our town and surrounding communities.
Please feel free to stop by and talk with me or any Officer if you have questions, concerns or would just like to get to know us.
Eric Speight
Chief of Police
Douglas, Alabama